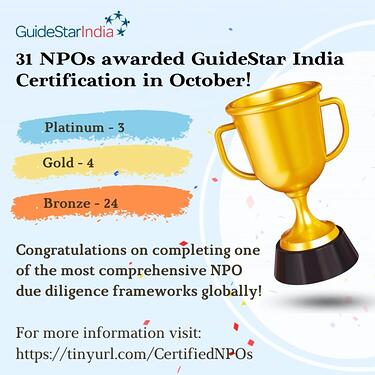 Congratulations to 31 organisations on successfully completing their GuideStar India certification!
Please browse through their GuideStar India profiles to identify opportunities to collaborate.
Those whose certifications are expiring on or before Dec 31, 2023, you are eligible to apply for renewal so that you get the benefit of a full year without and break in your certification status.
And, stay tuned for some exciting news about upgrades to your certification and an e-book on FCRA!
October 2023 Honours List:
Platinum
Rotary Club of Banjara Hills Charitable Trust: Renewal, Platinum- 6 times
https://guidestarindia.org/Summary.aspx?CCReg=6134
Setu: Renewal, Platinum- 5 times; Gold- 1time
https://guidestarindia.org/Summary.aspx?CCReg=2497
Suryoday Trust: Renewal, Platinum- 3 times; Gold- 2times; Silver: 1 time
https://guidestarindia.org/Summary.aspx?CCReg=7462
Gold
Gram Vikas Trust: Gold- 3 times
https://guidestarindia.org/Summary.aspx?CCReg=1238
NOEL FOUNDATION: Gold- 1 time
https://guidestarindia.org/Summary.aspx?CCReg=12183
The Society for Educational Improvement and Innovation: Gold- 1 time
https://guidestarindia.org/Summary.aspx?CCReg=14173
Under The Mango Tree Society: Gold- 1time; Silver- 1 time
https://guidestarindia.org/Summary.aspx?CCReg=1717
Bronze
Bhittibhumi Seva Sanghtan
https://guidestarindia.org/Summary.aspx?CCReg=14208
Deep shikha Samiti
https://guidestarindia.org/Summary.aspx?CCReg=2961
Dr. Ambedkar Sheti Vikas Va Sanshodhan Sanstha (ASVSS)
https://guidestarindia.org/Summary.aspx?CCReg=1641
Durbar Mahila Samanwaya Committee
https://guidestarindia.org/Summary.aspx?CCReg=3174
Grameen Mahila Vikas Sansthan (GMVS)
https://guidestarindia.org/Summary.aspx?CCReg=14241
Halo Medical Foundation
https://guidestarindia.org/Summary.aspx?CCReg=14245
Jan Vikas Sansthan
https://guidestarindia.org/Summary.aspx?CCReg=7635
Kolkata Rista
https://guidestarindia.org/Summary.aspx?CCReg=13819
Maarga
https://guidestarindia.org/Summary.aspx?CCReg=14216
Mahila Jan Adhikar Samiti (MJAS)
https://guidestarindia.org/Summary.aspx?CCReg=13894
Mahila Shram Sewa Nyas (MSSN)
https://guidestarindia.org/Summary.aspx?CCReg=14218
Nav Bhartiya Nari Vikas Samiti
https://guidestarindia.org/Summary.aspx?CCReg=1870
Rural Aid Service
https://guidestarindia.org/Summary.aspx?CCReg=14231
Samajik Seva Sandan
https://guidestarindia.org/Summary.aspx?CCReg=988
Sanatan Unnayan Sangstha
https://guidestarindia.org/Summary.aspx?CCReg=4870
Sappho for Equality
https://guidestarindia.org/Summary.aspx?CCReg=14233
SATRA
(Social Action for Appropriate Transformation and Advancement in Rural Areas) https://guidestarindia.org/Summary.aspx?CCReg=13607
Shakti Shalini
https://guidestarindia.org/Summary.aspx?CCReg=5163
Society for Rural Initiatives in Sustainable and Holistic Themes in India (SRISHTI)
https://guidestarindia.org/Summary.aspx?CCReg=14220
Talash
https://guidestarindia.org/Summary.aspx?CCReg=14232
Thendral Movement
https://guidestarindia.org/Summary.aspx?CCReg=1202
Urja Trust
https://guidestarindia.org/Summary.aspx?CCReg=9706
Uttar Betna Samaj Sangskarak Bahini
https://guidestarindia.org/Summary.aspx?CCReg=7331
Zubaan
https://guidestarindia.org/Summary.aspx?CCReg=14235
For the full list of certified NGOs, please visit: