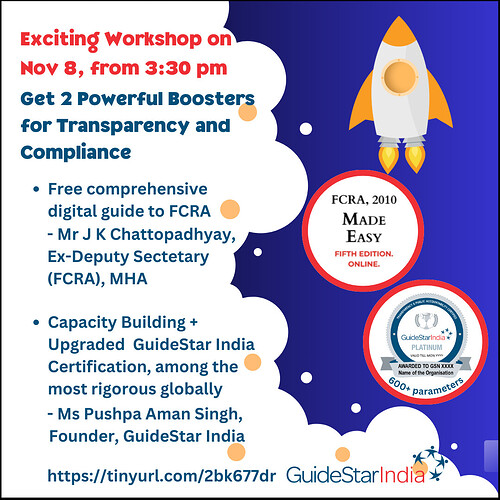 Make this Diwali extra special with our "2 boosters for Transparency & Compliance" workshop on Nov 8! We have only limited spots, so please sign up now at: Meeting Registration - Zoom
We are excited to invite you to the launch of:
The Digital Guide to FCRA by the expert Mr J K Chattopadhyay, Ex- Deputy Secretary, (FCRA), MHA. The FCRA Digital Guide is the first of its kind, where you will find answers to 275 questions plus all the other resources you need for FCRA compliance. Mr Chattopadhyay has been kind to make the fifth edition of his book completely digital and totally free!

GuideStar India's upgraded Certification is based on an assessment rubric covering 7 pillars or clusters with 500+ parameters that will give you an edge globally. The certification process will comprise 4-5 Capacity Building workshops. What's more…you apply for the Capacity Building + Certification programme and have the chance to qualify for Platinum/ Gold/ Silver/ Bronze based on your assessment score! Every organisation has an equal chance to qualify for Platinum regardless of its size! The assessment parameters are divided into qualifiers and differentiators, and you need a minimum score in each pillar to qualify. There could be differentiators that you may learn about, but put into practice in the future. The applicability of parameters is based on the size of the organisation.
This will be a journey of learning and reflection with your internal teams, management and governing body members! 74 NPOs have gone through our pilot phase and 97% found the framework useful!
GuideStar India certified NGOs showed remarkable resilience in the pandemic. In past 5 years, 88% of GuideStar Certified NGOs registered growth vis-à-vis only 57% on non-GuideStar India certified NGOs.
Here's what some of the participants from the pilot launch had to say after attending the series of capacity building workshops:
"I think there is a solution to everything and I am now more confident that as an
organisation we can work on preventive measures to avoid any risk that can happen
to the organisation. "
Shannon Dona Massar, Faith Foundation
"Realistic examples and cases were eye opener and push us to look into our books of
accounts appropriately"
"The possibility of communicating our work better to an external/general audience,
Connecting with a community of NGOS"
Poonam Kathuria, Society for Women's Action and Training Initiatives
To secure your spot at the launch workshop to get the 2 powerful boosters to
enhance your organisation's transparency and compliance, please register at the
following link: Meeting Registration - Zoom