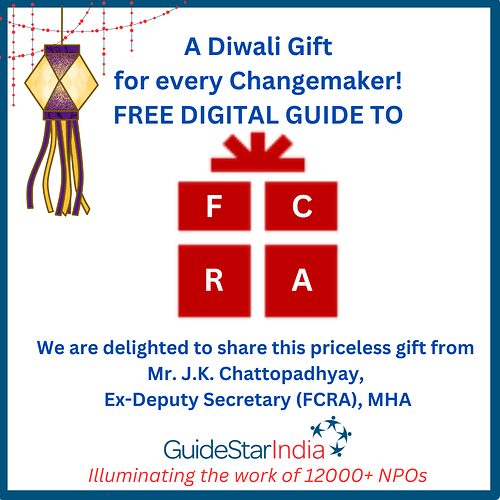 We hope you will be happy to receive this Diwali Gift!
We are delighted to share a free digital guide to FCRA, created by Mr J K Chattopadhyay, Ex-Deputy Secretary (FCRA), Ministry of Home Affairs.
The guide is the most comprehensive resource on FCRA with 275 Questions and Answers. It has the history of amendments with links to related points and notes.
You can download the WebApp on your android devices/ iPhone. Do see the How to Use section in the app. Visit this link to download your Diwali gift:
https://fcra.jkchattopadhyay.com
What's more- you can address your FCRA queries to Mr Chattopadhyay at:
https://forum.guidestarindia.org/t/get-all-your-fcra-related-doubts-cleared-here/211?u=guidestarindia
GuideStar India is grateful to Mr Chattopadhyay for his generosity, and giving us the opportunity to share his gift to changemakers! You too can share it with all your colleagues, partners and grant makers!